Hopper Gate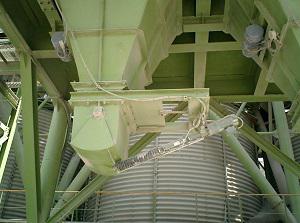 Tsubaki recommends our range of electrical Power Cylinders linear actuators, which are designed to withstand the impact shocks caused by stoppages, delivering safe operation even during overload.
This reliable operation is enabled by the construction of Tsubaki Power Cylinders, which do not operate via hydraulics or pneumatic, delivering increased ease of installation via simple wiring. Instead, a screw and nut mechanism is employed in the cylinder section, offering robust construction. This also ensures that additional piping, pumps and tanks are not required. Tsubaki Power Cylinders require only a switchboard and cables - boosting space efficiency in a typically busy application area.
Tsubaki Power Cylinders also remove the risks of oil leaks, which may cause the gates of the hopper to open if pressure is not adequate. Furthermore, oil leaks also present a risk to personnel in the application area and contamination of the bulk material.
Failure to close a hopper gate effectively can risk workers in close proximity, the condition of associated equipment and the bulk materials in process. All present risks to safety or profitability, so selecting a Tsubaki solution can go a long way to increasing security and reliability.
Check out the features of Tsubaki Power Cylinder in an animated video.
Tsubaki linear actuators are ideal for mining applications
Tsubaki Power Cylinders are a completely self-contained, motorized linear actuator unit available in a variety of types and speeds. Their compact size and ease of installation make them ideally suited to a variety of mining applications.